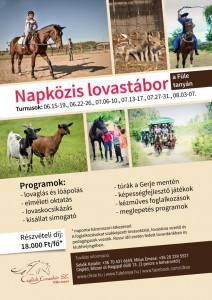 Every summer we organize horse camps in more shifts which are lead by trained horse instructors, horse tour leaders and teachers.
Programmes:
horse ridding and horse caring
carriage riding
small animals stroking
tours along Gerje river
skills developer games
arts and crafts
table tennis, soccer
In case of bad weather we hold our activities in our indoors hall and clubhouse.
Participants: 6-18 age children
We also more than welcome bigger group nursery school children. In case of smaller children we suggest some hours visit with parents.
Headcount: max 25 persons/ shift
The application is validated after filling out the application form and 10 000 FT advance payment. The order of places is filled up based on the order of application. The shift does not start under 15 persons. You can pay the advance in the field with prior agreement.
Registration:
Emese Milus (+36) 20 239 5521
Attila Csiló (+36) 20 456 4572